2020 Come Fly With Me TV Documentary Series on the History of Flight in Australia: Selected interviews
2019 Catalyst: Body Dysmorphia: DOP on one off program on the increasing incidence of body issues for young people
2019 Carnival of Consequence Short: Made for the University of Technology in Sydney
2018 Transblack: series on transgender indigenous young people
2018 Midnight Oil 1984 Release of previously unseen footage of iconic Aussie band
2018 Catalyst Numbers One of documentary of using algorithms in everyday life
2018 The Scribe Feature documentary: interviews with Graham Freudenburg, Whitlam speechwriter, and his contemporaries
2018 Mateship: A Century Together  Feature documentary on the US/Australian alliance
2017 Colour Theory Series of documentaries on contemporary art
2016 Australian Made Anniversary (camera operator) Concert film featuring INXS, Jimmy Barnes Divinyls
2015 Blood on the Coal Feature Doc on the coal-mining communities of Qld
2015 Lest We Forget What? Two part documentary on the Anzac myth, shot in France and Turkey
2015 Tyke: Elephant Outlaw Feature documentary on Tyke, circus elephant who rebelled. Shot in the US
2014 Colour Theory Series on contemporary art for No Coincidence Films and SBS
2014 The Redfern Story Interviews with actors and activists associated with the Black Theatre, Redfern. Prod: Sue Milliken
2013 Art of Australia 3 part landmark series on Australian Art for BBC and ABC
2013 Royal Wreck of Gold UK TV Tales of the Goldrush
2012 Paul Kelly: Stories of Me Feature cinema documentary on iconic Australian singer songwriter, for Shark Island Films
JURLIQUE PROMOTION: 2012
A shoot at the Jurlique Farm in the Adelaide Hills. Developed using Rudolph Steiner principles, ensuring biodiversity and totally natural ingredients for their skin-care products. Simon shot on the Canon 5D. Edited with style by Michael O'Rourke
NUROFEN for children COMMERCIAL: 2012
Directed by Diana Leach. Mothers sing the praises of Nurofen for their children. DOP: Justine Kerrigan, Simon was Second Unit DOP. For Streetlife Films and EURO RSCG
Paul Kelly: Stories of Me – Shark Island PRODUCTIONS 2012
Feature length, partly dramatised documentary exploring the life and career of the Australian singer-songwriter, Paul Kelly. Cinema release. Shot on Canon 5 D cameras, with film sequences. Extensive interviews with Paul Kelly's family, bands and contemporaries, such as Deborah Conway, Archie Roach, Renee Geyer, director Rachel Perkins and Megan Washington, and Paul Kelly. Also some pretty exciting rehearsal and performance footage, including The Falls Festival at Lorne in 2010. In final post-production at the moment, with premiere at a major Australian Film Festival in 2012.
Director/Producer: Ian Darling DOP Simon Smith Co-cinematographers: Ben Cunningham, Ray Argall Sound Recordist: Nick Batterham Editor: Sally Fryer

Jack the Ripper: Prime Suspect – Prospero Prods 2011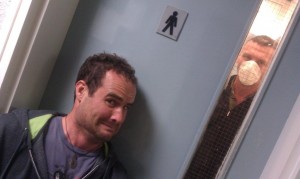 A new suspect in the Jack the Ripper case after 120 years: and he has an Australian connection. Shot in Australia and the UK, this docudrama tells the story of Frederick Deeming, serial killer, with flashbacks to the Whitechapel murders, and dramatic reconstructions of the investigations. Shot in HD. Premiered on UK TV in Britain, March 2012, and was the third most watched programme of the week. Also to be screened by the Seven Network and Discovery Canada in 2012
Director: Franco Di Chiera Producer: Julia Redwood DOP Simon Smith Sound Recordist: Ash Charlton
Completed
In Their Footsteps – Shine Australia 2011
Two episodes of a Landmark Channel 9 TV documentary series, taking young people to the places their forebears fought and died. Includes: Kokoda Track and the air war over Malta, including air-to-air shooting of a Spitfire over the fields of England. Shot in HD. Director: Tim Minchin, DOP Simon Smith Sound Recordist: James Petch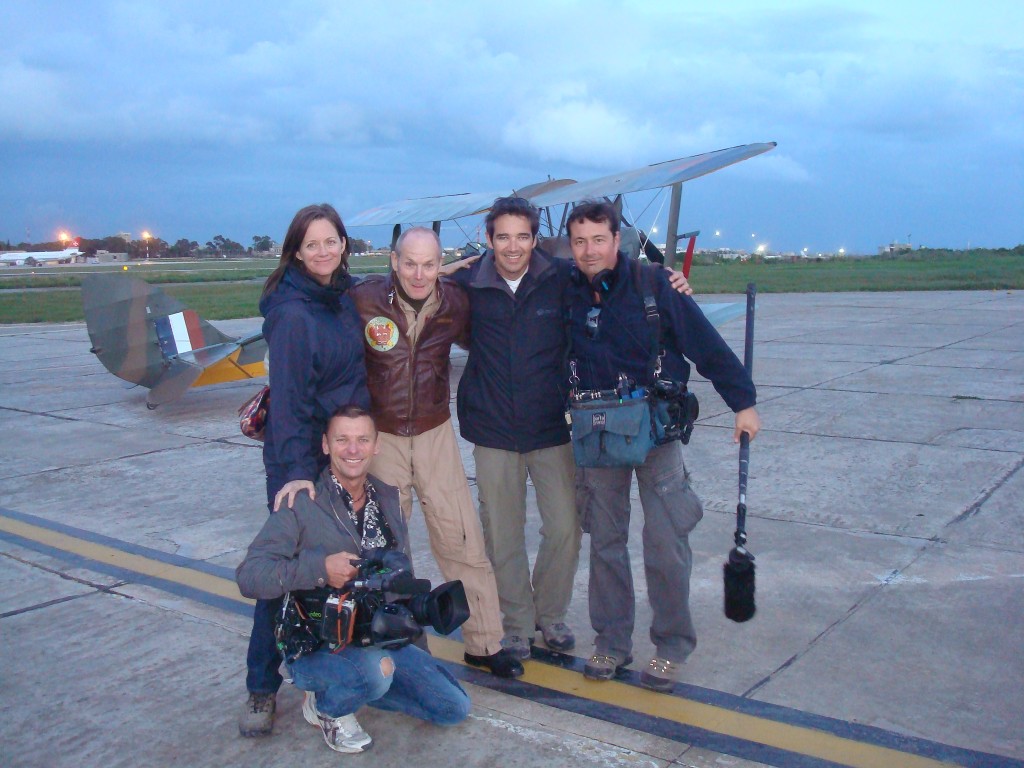 Last Stand at Nymboida – Red Cedar Productions 2010
The Nymboida Coal Mine, on the brink of being closed down by its owners, was saved by the workers and their Union. They bought the mine and kept it running, a world first. Shot In HD and on film. Director: Jeff Bird Producer: Kerry Herman DOP Simon Smith Sound Recordist: Ben Cunningham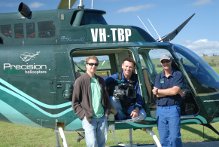 Life at Five – Heiress Productions 2010
I
In the tradition of Seven Up, we
follow the lives of a dozen children from all parts of Australia, as they grow and develop. Beautiful observational documentary series. Director: Andrea Ulbrick Prod Jennifer Cummins Sound recordist: Leo Sullivan
LIVING THE END- CORDELL JIGSAW 2010
Simon and director Jen Peedom spent 2 months at the Sacred Heart Hospice in Darlinghurst, Sydney. They got to know the dedicated staff and extraordinary patients. Mark, Robert and Katie are facing enormous challenges: and their own mortality.
Produced by Michael Cordell for SBS
The Snowman – Pony Films 2010
A lost father, a 30 year old conspiracy, a daughter's journey to discover truth Director: Juliet Lamont, Prod: Rachel Landers. WINNER: Sydney Film Festival 2010: Best Documentary
Are You My Mother? – Screenworld 2009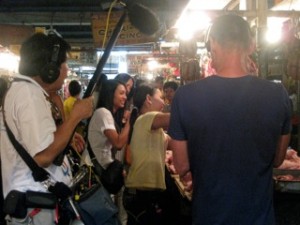 Inter-country adoption. 2 young Australian women travel to their birth countries, Romania and the Philippines, in search of their mothers. Harrowing but inspiring stories, as much about the mothers and their lives, as the children they gave up for adoption, to other families and distant cultures.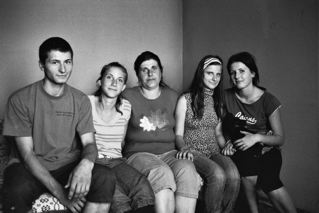 Director of the Romanian episode: Andrea Ulbrick
Director of the Phillipines episode: Ili Bare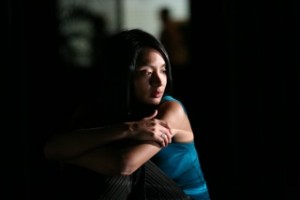 YOU ONLY LIVE TWICE THE INCREDIBLY TRUE STORY OF THE HUGHES FAMILY 2009
Superb, funny, colourful story of 4 generations of the Hughes family: from ventriloquist Richard, to foreign correspondent and possible spy Richard Jnr (model for Ian Fleming's James Bond) to jazzman Dick, to Christa: the raucous and irrepressible performer. Shot in Hong Kong, Australia and Europe.Directed with verve by Brendan Young, produced by Ruth Cullen. Sound recordist: Leo Sullivan Winner of AFI Award 2010 for Best Documentary.
I, Psychopath – Magic Real 2008
There are more psychopaths working and living among us than we realise. Sam is one of them. We follow him across Europe, as he lays his brain and psyche open for study. fascinating and disturbing, both to shoot and watch. Director: Ian Walker DOP Simon Smith
RIVER OF NO RETURN – SBS 2008
In the Arnhem Land indigenous community of Ramingining, the young Frances watched the films of Marilyn Monroe, and dreamed that one day she would become a star of the Silver Screen. 30 years later, with a part in the ground-breaking feature film by Rolf DeHeer, "Ten Canoes" she got her wish. We follow her as she attempts to build her career further. A tough road…. Directed by Darlene Johnson, Produced by Pat Fiske for SBS. DOP Simon Smith Sound: James Currie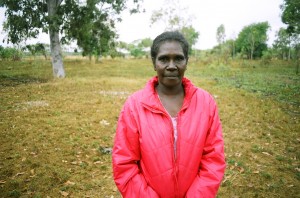 Robot Revolution – Essential Viewing 2008
Australian scientist Rodney Brooks and his team at MIT Boston, are racing to complete the world's first autonomous robot. The Japanese will embrace it, but will the rest of the world? Director: Andrea Ulbrick Producer Chris Hilton Cinematographers: Denson Baker and Simon Smith Sound recordist: Gary Hampden
Boomers – Screenworld 2008
A glimpse into the future. As the world's women have babies later, and fewer of them, there will be a bubble of elderly people, and a smaller and smaller group of young people working to support them. Italy/UK/China/Aust shoots Directors: Malcolm McDonald, Ili Bare
In The Company of Actors – Shark Island Films 2007
Will New York take to a Norwegian classic rendered in Australian idiom by Aussie actors? Even if they are led by screen goddess Cate Blanchett? Backstage and personal look at the talent of the actor. reality/documentary Director: Ian Darling, DOP Simon Smith Sound Recordist: Leo Sullivan Official Selection Sydney film Festival 2007 Winner: Silver Award ACS Awards 2007 for Cinematography of a documentary.
The Real World – MTV US 2007
The world's original reality production. Seven young Americans are thrown into a house in Sydney, and into an unfamiliar culture. Profound moments? Or an opportunity for America to see how ugly it is? Four months of rigorous round the clock shooting. Director: Trisha Boyd for Bunim/Murray US. With a crew made up of Australians and Americans. An intense and fun cultural melting pot! DOP Kaye Harrison. Simon was tested to the limit shooting nights for the duration, but found the experience fantastic.
Frank and Daz – SBS
Daz has Cerebral Palsy. He was given up as a vegetable by doctors in his childhood. Against the odds, he has learnt to walk, to speak and to run. With his friend Frank to help him, he takes on New York in the Marathon. A modern day Midnight Cowboy pair on the streets and subways of the Big Apple. Director: Judy Reimer Producer: Bevan Childs for Rymer Childs and SBS TV
Race to the Beach – BBC 2007
Following the riots of 2005 at Cronulla Beach, a group of young Muslim Australians start training to become that most Australian icon: the Surf Lifesaver. reality/documentary Director: Alan Erson for Serendipity Productions/BBC. Simon was DOP
The Pursuit of Excellence – PBS 2006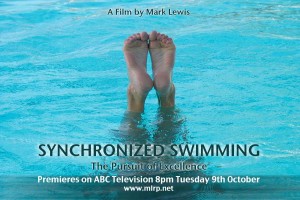 A quirky series of documentaries following people realising their dreams, from synchronised swimmers to hairdressers. USA/Russia Director: Mark Lewis for PBS US DOP: Simon Smith Sound Recordist: Tony Turner Winner: Silver Award ACS Awards 2007
Two of Us – Cordell/Jigsaw 2005
In a series that mixes reality and the stylised, we look at a series of unusual friendships. Spanning the horrors of the Holocaust, Australian detention centres, tattooists, strippers and greyhound racing. Directors:Brendan Young, Ruth Cullen, Jane Manning, Jane Schneider
Nerves of Steel – Film Australia 2006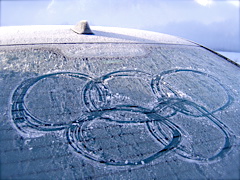 We watch a group of Australian girls honed in the science of the sport Skeleton. That's sliding down a bobsled track at 160kph. Face first. Up close look at the harrowing process of Olympic trials in the Italian Alps. Director: Andrea Ullbrick, DOP Simon Smith
Selected Previous Credits
Tribal Life – Bunlap Discovery Channel 2005
Four part reality series following the lives of the people of the village Bunlap in Vanuatu. Remote from civilisation. No clothes, running water, TV, electricity. But a resourceful, funny, beautiful people. Director: Malcolm McDonald Cinematography: Malcolm McDonald, Simon Smith.
Vietnam Symphony – Film Australia 2005
Tells the story of the Hanoi Music Conservatoire, and how its students endured the bombing of the city, digging down to create an underground school. Resilience…and forgiveness after the war. Director: Tom Zubryki Producer: Kerry Herman, DOP Simon Smith Sound Recordist: Leo Sullivan Winner ACS Highly Commended Award for Cinematography 2005
The Colony – Hilton/Cordell 2005
Reality series taking 3 families and placing them in the conditions of early colonial Sydney. SBS/Irish Television Director Malcolm Mc Donald (one of 4 cinematographers)
Dope: The Science of Champions – Hilton/Cordell Films 2004
A forensic detective story. The race to push athletes faster, using science; and the race to catch the cheats, in the lead up to the Summer Olympics. ABC/Discovery/CBC Director: Alan Erson
Missing – Pony Films/SBS 2004
Four part reality series, following different aspects of the missing person. From the Missing Persons Unit, to the effect on families, and the tracing of lost relatives of Aborigines. Director: Rachel Landers
The Riddle of the Bradshaws – Iguana Films/ABC 2004
The ancient rock art of the Kimberleys, extraordinary art that gives some insight into the culture of the time. And the driven man who has discovered and tracked and documented this art for a lifetime. Director: Paul Roy
A Girl, A Horse, A Dream – Pony Films/SBS 2003
Follows Australia's leading female jockey Bernadette Cooper thru a tough season of wins and losses. A spirited female in a world that is still male. Director: Rachel Landers
Surviving Shepherds Pie – SBS 2001
A look at the lives of four feisty women of the outback. The particular strengths that led them to their lives, and helped them endure. Director: Diana Leach Sound Recordist Paul Finlay AFI Nominee: best cinematography in a non-feature film
Painting Country – NHK Japan/Electric Pictures/SBS 2000
Shot on HDTV, it follows a group of artists from the Aboriginal Community of Balgo, as they travel their country: the Great Sandy Desert. Director: Sally Singleton, Producer Robin Eastwood, Sound Recordist: Laurie Chlanda.
First Mission – Iguana Films/ABC 1999
The Red Cross sends volunteers across the world every year. Here we follow Australians, as they are sent to refugee camps and hospitals in Tanzania and Kenya. The challenges they face. The inevitable moment when everything falls apart. Director: Paul Roy
Music videos
Jimmy Barnes Thankful for the Rain
2000 ACS Gold Award for Cinematography
Jimmy Barnes Love and Hate 1999
Dannii Minogue Everlasting Night
Dannii Minogue wrote a song as a celebration of Sydney Gay and Lesbian Mardi Gras, and the Mardi Gras organisers Richard Cobden and Gary Leeson, asked Simon to shoot the music video. And co-direct with Dannii. It brought together Dannii at her most stunning, a gaggle of Sydney's top drag queens, glamorous lesbians, shirtless guys, glitter, sequins and a gigantic mirror ball. A dream job for Simon!
1999 ACS Silver Award for Cinematography